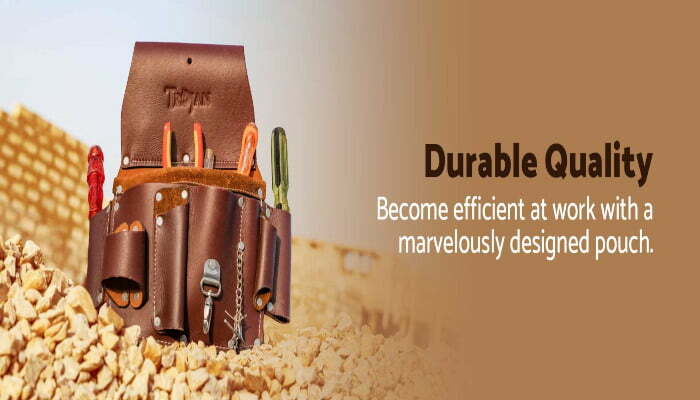 Tool pouch bag
Buckle up your tools with a marvelous tool pouch bag. These bags have multiple pockets so you can arrange your tools efficiently. We manufacture it only using genuine leather, rivets, and, nylon stitching. This excellent manufacturing method makes the tool bag a long-lasting product. Furthermore, the users highly recommend the tool organizer bag for comfort at work. We also take in suggestions of the workers before making designing. Each detail takes place with careful consideration so you can enjoy working with it. Design and quality are our top priorities.
Read_more..
Best tool organizer bag!
Money is time! Hence, the best way to make the best of your valuable time is to be organized. Moreover, tool pouches are an excellent way to organize your tools. Pouches help you keep tools nearby and your work hassle-free. According to one of the framers, 'I'm better at work and finish tasks on time by using the tool pouch bag.' Furthermore, users love our pouches because of their amazing durability.
FAQs
What can you put in the bag?
Anything you want! Our tool pouch bag has a marvelous design. Therefore, it can hold small and big tools, tape holders, loops, and various pockets.
How is the quality?
In addition, it has the best quality. Hence, you can trust our manufacturer for long-lasting use. Here is a list of things we use.
Genuine leather
Stainless steel rivets
Nylon stitching
Sturdy loops
Can I attach it to my belt?
Yes! You can easily choose your own tool pouch bag and attach it to our amazing leather belt. Moreover, we also have two options. First, a comfortable padded belt, and second a simple one. You can make your own amazing belt by attaching suspenders and accessories. Order your tool organizer bag now for a hassle-free and comfortable grind.
Read_less..