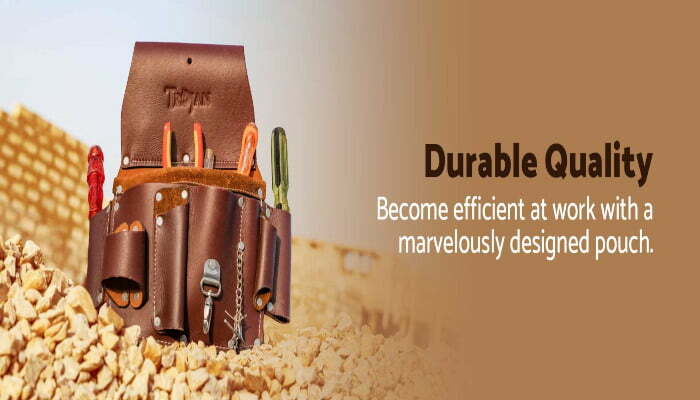 Unleash the Power of Organization with Our Tool Pouch Bag
Carve out efficiency at your workspace with our unbeatable tool pouch bag. This exclusive bag, equipped with multiple pockets, redefines tool arrangement with an innovative edge. Each bag embodies superior craftsmanship, using top-grade materials like genuine leather, sturdy rivets, and durable nylon stitching. Furthermore, the promise of longevity is ingrained in every stitch, as testified by satisfied users who vouch for the enduring quality of our tool bags.
Our unique design approach makes our bags indispensable for construction industry professionals. Indeed, we lend an ear to the insights from the field, meticulously incorporating their suggestions into our design.
Read_more..
Undoubtedly, the result is a product that:
syncs with your work style
enhances your comfort and productivity
Provides ample space for all your framing tools
Keep Your Tools in Arm's Reach with Our Framing Bags
Time is money, especially in the construction industry. In other words, organizing your tools with our remarkable framing bags is the key to unlocking more productive hours. Indeed, our tool bags are conveniently designed to keep your tools within grasp. In other words, our pouches are instrumental in making your work environment hassle-free.
Endorsed by experienced framers, the utility of these framing bags is a game-changer in their routine. 'My productivity has improved, and I complete tasks more efficiently with the tool pouch bag,' shares a delighted user. Furthermore, the durability of our pouches wins unanimous praise, enhancing their appeal.
Undoubtedly, our framing bags offers an exceptional capacity. From small to large tools, tape holders, and loops, it's a marvel of design that accommodates a wide range of your essentials. In addition, the unbeatable quality of the bag makes it a trustworthy companion for your long-term use.
We also offer you the option to customize your tool belt with pouches. Choose between a comfy padded belt or a straightforward design. Moreover, add suspenders and accessories to tailor your tool belt to your liking.
Furthermore, here is something to know about the quality of Trojan framing bags:
made from the finest cowhide
stitched with triple-tier polyester treads
riveted for extra durability
To conclude, our tool pouch carpenter bag isn't just a bag, it's a tool of empowerment, helping you work smarter, faster, and better. Order now and experience a seamless, efficient workday with our tool organizer bag. Your quest for an organized, hassle-free workday ends here.
Read_less..