Best Leather Electrician Tool Belt - Review by Experienced User.
Hi, I'm Samuel. All these tools and sleek leather systems keep me smiling, and here's proof.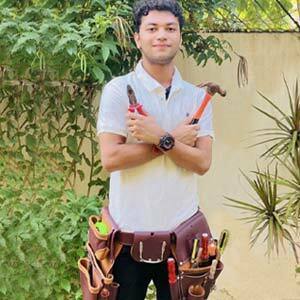 I've five years of working experience with a leather electrician tool belt. I think this experience qualifies me to talk about the qualities the best electrician tool belt should have.
I must have used quite a number of belts over the years, each one having a special feature to talk about.  Then the comments made by the fellow electricians are part of my long work experience. So, instead of ranking brands as the electrician tool belts, here is what I think the best should have.
What qualities should the best electrician tool belts have?
1. Let's start with the material: leather or polyester. If you ask me, only leather qualifies for this job. Here are my reasons:
● It's durable. Leather lasts longer than any other material. Sure, you have to oil it once in a while. Still, it's worth the effort. It is scratch-proof material.
● It has that durability. For me, durability counts. I will explain why durability is so important later in this blog. A durable leather belt has double stitching and rivets.
2. While still on the topic of durability, the buckle on the leather electrician tool belt has to be brass. Or it can be chrome-plated—the steel or iron buckles rust in a few months.
3. After a few uses, you will agree that the electrician tool belt should have good capacity. You cannot bother to come down repeatedly to restock or just to get that tool that your tool belt could not hold.
4. Then, there is the ease of pulling and placing a tool from the belt. You have to be fast and smooth. This you can achieve if the pockets on your belt are well designed. Therefore, for me, the pouch is the most important part of the electrician's tool belt.
Why are pockets the most important part of the best electrician tool belt?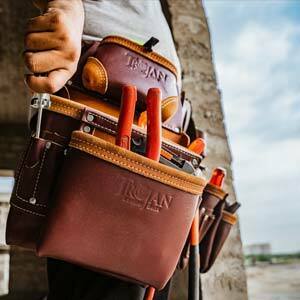 Imagine when you have to finish a job in a hurry. Or you must meet that deadline. You are rushing. That's when your hands are reaching into the pockets of your belt naturally, pulling out the materials and tools instinctively.
You can do that only if your belt has plenty of pockets and each pocket is well organized, making it the best electrician tool pouch.
And that brings me back to durability. It will take you some time to remember which pocket has what. Now that will take a week or two, and then you won't have to look down at the belt to find what you need. You can do it naturally. In other words, it will take you a good two weeks to get used to the organization of your belt.
Now, what if your belt is not durable and you end up buying a new one every few months? It would be back to square one, as far as the remembering of the belt organization is concerned.
So now you know why I consider a leather belt to be the leather electrician tool belt. There's no doubt that it has the best electrician tool pouch and leather material. Secondly, you have to select your own pockets depending upon the kind of jobs you do.
Now I'm off to work in my gear.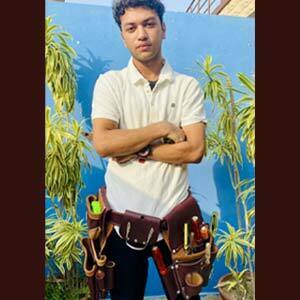 I hope I was able to answer all your questions. For further queries, you can comment below.